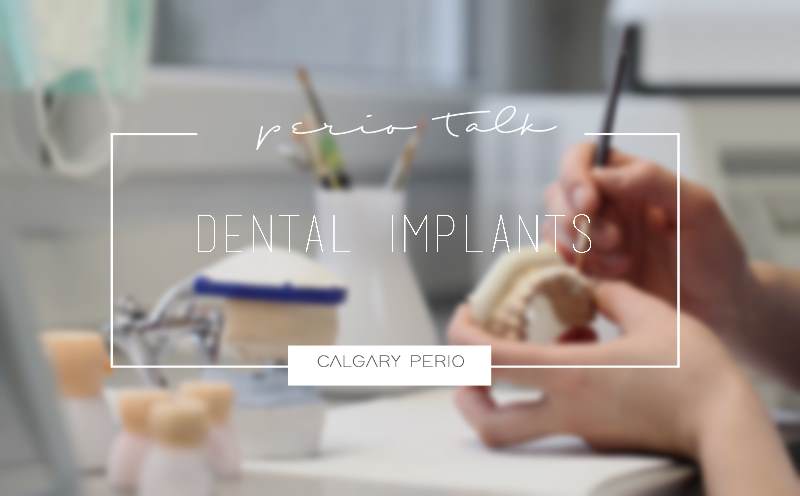 Dental implants are the next best thing to your natural teeth. When implanted by a highly skilled dentist or implant specialist, dental implants can enhance your smile in terms of functionality and aesthetic. Our in-house specialists, Dr. Manhas and Dr. Brar, are not just periodontists and dental implant experts, who have helped hundreds of patients with their dental implant needs.
To find out if dental implants are right for you, talk to your Calgary Periodontist or call us at (403)288 3334.
Dental implants are in it for the long haul
When dental implants are properly and skillfully placed, your implants could last a lifetime. With proper care and some minor periodic adjustments, patients can enjoy their implants for decades. Dental implants stay in your mouth 24/7. Unlike dentures, you never have to soak them overnight. Overall, they are incredibly dependable, strong, and durable.
During your initial consultation, Dr. Brar or Dr. Manhas will determine your candidacy for dental implants. Dental implant eligibility depends on how healthy your gum tissue is. There should also be enough bone present to properly support the dental implants. It is important for us to have a frank dialogue with our patients, and your first visit is the perfect opportunity for us to address your concerns. Never hesitate to ask questions- we're here to listen. 
Uplifting news!
Missing teeth often lead to the deterioration of your jawbone. Losing your jawbone can be detrimental for the support of your natural teeth, resulting in an undesirable change in appearance. Dental implants make it possible for you to retain the shape of your smile, thus creating a natural "facelift" look. Implants can drastically improve your aesthetic front, making you feel increasingly comfortable and confident.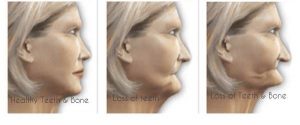 NO MORE CAVITIES
Crowns, replacement teeth, and dental implants cannot be affected by cavities.  You can care for your dental implants as if they were your natural teeth. Regular brushing and flossing will keep your gum and dental implants strong and healthy.
Yes! You read this correctly! You do have to care for your implants like you normally would with your natural teeth. However, since dental implants cannot be impacted by cavities, you won't have to worry about pain or soreness associated with dental caries.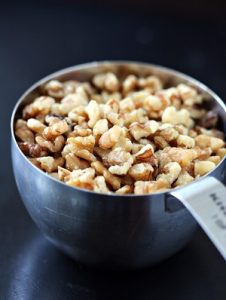 Eat Well, Live longer
Implants do not impose restrictions on your diet. Steak, nuts, fresh veggies, and corn are not off limits! Dental implants can relieve excessive stress and pressure affecting your other teeth. The chewing process becomes easy and effortless.
In addition, your digestion will improve, thus reducing chances of you experiencing stomach or digestive problems.
High Success Rates
Armed with a proper treatment plan, excellent surgical protocol, and a highly-skilled dentist, you can anticipate 10-year success rates for dental implants in excess of 98%. To give you a better understanding of these incredibly high success rates, compare dental implants to traditional crowns and root canals whose 10-year success rates vary between 75% and 85%.
With a 10-year 98% success rate, this is a valuable investment that will enhance your facial appearance and your overall health. Dental implants are made of Titanium, a metal with great strength and which is biologically inert. Unlike other metals, Titanium won't be rejected by the body. In the hands of an experienced specialist, the surgical implant procedure is relatively short, simple, and straightforward. When it comes to dental implant surgery, our Calgary Perio staff are highly trained experts with extensive experience. You're in good hands!
Live, Laugh, Love…
Dental implants can significantly improve your lifestyle. There are no dietary restrictions, and hard textured foods are not off limits. You don't need to avoid awkward yoga poses anymore! With your implants firmly in place, you can talk, smile, cough, and laugh without anything shifting or clicking. You will absolutely love how easy it is to enjoy all your favourite activities, and never have to worry about convenience or logistics.
To learn more about Dental Implants in Calgary, 
COME ON IN!
Our friendly staff will be happy to help you book your initial appointment with one of the top rated periodontists in the city.
 (403) 288 3334
Dr. Brar is the #2 Calgary Periodontist on RateMD
Read why Dr. Manhas is the #1 Periodontist on RateMD